We know sometimes you need a little help when it comes to making purchases, and Katapult is here to help with a new take on purchasing power. In minutes, get approved for up-to $3,500, checkout for a low initial fee, and with their 90-day purchase option, you get a discount on early buyout, making what you lease, yours.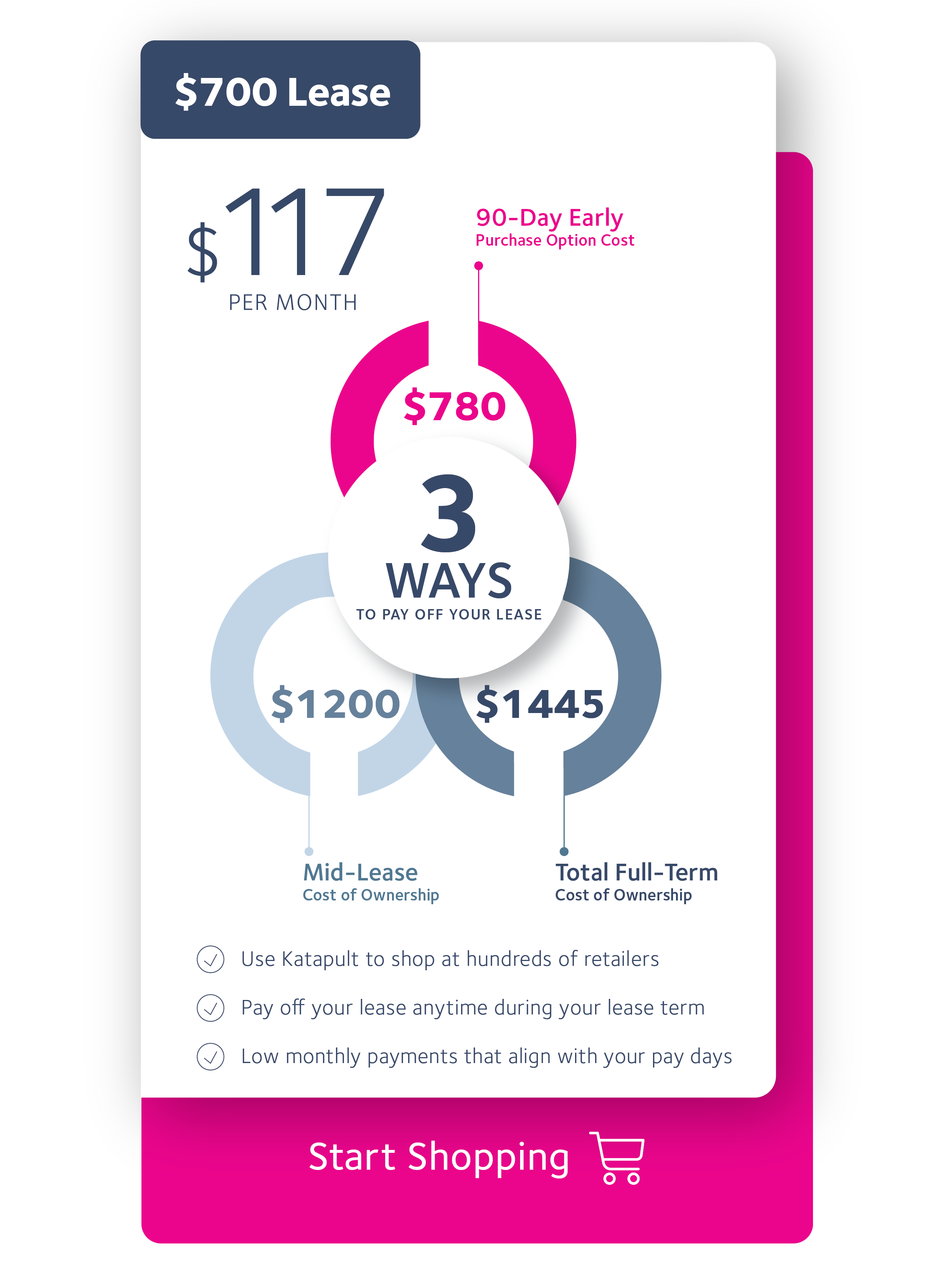 Pricing may vary by state and does not include sales tax. Estimates above are based on a $45 initial payment and a 12-month term using a monthly payment schedule. Weekly, bi-weekly, and semi-monthly payment schedules are also available. Mid-term is equivalent to 6 months.
CA residents pay only the cash price if paid off within 3 months.
Pay off within 90 days for just 5% above the cash price plus the initial $45 payment. To exercise the 90-day early purchase option contact Katapult via 24/7 chat or visit the customer portal page by clicking here for the most up-to-date account information related to your lease-purchase agreement.
This is an advertisement for Katapult's lease-purchase or lease-to-own service. The path to ownership will cost more than the merchant's cash price. Certain items available at participating locations. Not available in MN, NJ, WI, WY.
They are the leader in the no credit required, lease to own space. Have bad credit? Don't have credit history? Not an issue. They offer a simple, straight-forward lease to own payment option to help you acquire the products you want and need from their top retailer and merchant partners.


We are glad you asked! Lease to own means that you make recurring payments for the use of the products you have selected. You have no long term obligation to continue leasing, and can return the product to Katapult at any time with no further obligation other than for amounts past due.




In addition, you have several options to acquire ownership of the product you are leasing. A lease purchase agreement through Katapult offers flexibility that may make it more attractive than financing. With each payment, you have the option to continue leasing, buyout, or return your items.




Lease to own gives you the power to purchase what you need when you need it.

Before pre-approval
You can apply at any of their partner stores online or in-store. If approved, you will be provided with an available Katapult lease purchase agreement limit that can be used to lease to own a product.




After pre-approval
For qualified products, you may get a lease purchase agreement in a few simple clicks.




1.  Select the Katapult button on the checkout page

2.  Enter a few pieces of information to verify your identity and payment information. Don't worry, our application does not request checking account, employment verification or personal references.

3.  Receive an instant decision

4.  Review and submit your order and the retailer sends you the products!




They'll send you a welcome email that gives you access to your account, customer service, and more.




In addition, you have several options to acquire ownership of the product you are leasing.  Katapult lease to own offers flexibility that may make it more attractive than financing. With each payment, you have the option to continue leasing, buyout, or return your items.

What is needed to apply for a Katapult lease purchase agreement?

A valid mobile phone number that can receive SMS text
A valid US address
A valid Social Security or Taxpayer ID Number (ITIN)
A valid email address
A valid credit or debit card to make payments (no prepaid or gift cards)
A valid photo ID showing you are 18 years of age or older




Getting pre-approved for a Katapult lease purchase agreement does NOT affect your credit score!

Can I return an item I bought with Katapult?

Customers may request a return if the product is still new in the original packaging.




Returns must be requested within 30 days of delivery. Once we approve a return with Katapult, they will pull 100% of the order total from our account. Due to how Katapult handles the return/refund processing, we have to charge our restocking fee before the return is made. We will email you an invoice for the restocking fee amount to be paid via credit card or PayPal. Once the restocking fee has been paid, we will process the return request and issue a Return Authorization Number.




When the return arrives at our location it will be inspected for quality and/or damages. Katapult will be contacted and your lease will be refunded. All restocking fees and return policy information can be found on the following page: https://coiloverdepot.com/pages/shipping-returns




If your return window of 30 days (or more where applicable) has passed, customers may contact Katapult and return the product(s) to Katapult, releasing them from future payments.


Do I have a limit on how much I can lease to own with Katapult?

Katapult provides you with an available Katapult lease to own amount that can be used to lease products once you are pre-approved.  Your available Katapult limit can be viewed on the success page of your application, in emails that Katapult sends upon approval, and on your personal account page here.  Pre-approvals are not guaranteed indefinitely and may change based on varying factors, such as your personal financial circumstances, where you shop, and how long ago you applied, among other factors.  Katapult may change your pre-approval in our sole discretion, at any time, without notice to you.  Review the Customer Portal for your most recent pre-approval information.


Do I pay sales tax using Katapult?

Yes. They charge and collect sales tax. Sales tax is added to all lease to own payments and buyouts.


Does Katapult accept down payments?

Katapult does not offer a "down payment" on their leases, but they are working on accepting a lease cost reduction payment. This feature is coming soon.


Does Katapult charge an interest rate (Annual Percentage Rate)?

No, they offer you a lease to own program. Customers are entering into a lease purchase agreement to lease products with an option to own, by exercising an Early Purchase Option or making all lease to own payments scheduled in the lease purchase agreement. The lease purchase agreement is not a credit transaction. Lease to own payments do not include an interest rate or APR and these will not be used to calculate the lease amount.

They consider the following four factors when calculating the lease to own payment.

1. The cash price of the product
2. The state in which the customer resides
3. The maximum term a customer can lease the product
4. The state/city sales tax rate


Does Katapult charge late fees?

No. Katapult will never charge you a late fee. Ever.


How do I cancel my order?

Please contact us to cancel your order before it has been delivered. Katapult will cancel your lease purchase agreement once they receive our confirmation that the order has been canceled. If you want to cancel the lease purchase agreement after the product has been delivered to your home, you will need to reach out to the Katapult Customer Service Team to coordinate the return by calling 833- KATAPULT (528-2785) or via email to returns@katapult.com or by using the LiveChat feature, now available 24/7.


How do I make my Katapult lease to own payments?

Your first lease to own payment is due at checkout. Then recurring lease to own payments are automatically charged to the card you provided at checkout. You can also make lease to own payments by logging into your Katapult account. You can access your lease purchase agreement account information on our site by clicking here. Please contact customer service using our 24/7 supported Live Chat or call at 833- KATAPULT (528-2785) if you need to update your account or payment information. 


How much does my Katapult lease purchase agreement cost?

With Katapult, the power to save is in your hands.  Katapult offers early payoff options to keep more money in your wallet.  The sooner you payoff the more you save.




If life gets in the way and an early buyout is not an option for you right now, that's okay, with Katapult you can continue to lease to own and make payments on a schedule that is convenient for you.




Visit the "Cost of ownership" page for more details.

In which states is Katapult available?

Katapult is currently only available in the United States. They do business in 46 states and Washington DC. They presently do not do business in Minnesota, New Jersey, Wisconsin, and Wyoming.


Is a checking account required to apply?

No, a checking account is not required to apply for a Katapult lease. They may request it as additional information to process your application. You will not be charged to apply.


My credit is not the greatest. Do I need to have good credit to apply for a Katapult Lease purchase agreement?

No credit? Bad credit? No problem. We understand that things come up in life. We work with customers that have no credit, bad credit or a bankruptcy. "No credit required" does not mean nor imply that no inquiry will be made of credit history or creditworthiness. We may check past transactional history and report information about your lease purchase agreement to credit reporting agencies, but no established credit history is necessary.


What are the advantages of a Katapult lease purchase agreement vs. a loan (financing)?

Loans generally offer lower recurring payments than lease-purchase agreements, while lease-purchase agreements offer the flexibility of continuing to lease, buy, or return the product. Also, there is no danger of penalty interest (be that compounding or deferred) or loan acceleration with Katapult.




Loan: You can borrow money to buy something and you pay it back over time, plus interest.




Katapult lease-purchase agreement:  You make the appropriate lease-purchase agreement payments on or before the due date for the use of your products.  With each payment you may choose one of three options:




1. You can continue using the products by making the lease renewal payment in advance of the payment due date.
2. You can buy the products at any time.
3. You can return the products to Katapult with no further obligation, except for any past due balances and any restocking fees that may apply.